In addition to everything we've learned about the performance of the new OM System OM-1 digital camera and its top-drawer companion, the M.Zuiko Digital ED 12-40mm f/2.8 PRO II lens, there's another exciting side to this device for nimble photographers who want to travel very light, but pack a serious imaging punch.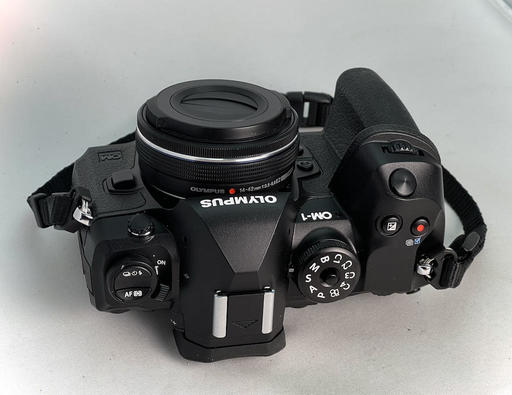 If you remove the 12-40mm PRO II and mount the Olympus M.Zuiko Digital ED 14-42mm f/3.5-5.6 EZ with the Olympus LC-37C Auto Open Lens Cap, you have what well may be the world's most sophisticated point and shoot camera with an equivalent zoom range of 28mm to 168mm with 2X enabled.
So you would have blazing performance, top notch image quality, and computational brains in a camera that fits in a purse or jacket pocket. I'm talking about features such as Live ND handheld photography with up to 6 EV of density, incredible handheld High Res Shot for super detailed files, multiple exposure, interval shooting, mic & headphone jacks for 4K video recording, and dual UHS-II SD card slots, just to name a few.
When in the "off" position, the M.Zuiko 14-42mm EZ barely extends past the handgrip. In other words, this is virtually like carrying the body alone in terms of space. Yet this optic performs admirably in a variety of lighting conditions. And if you want to put a fast, high-quality companion in the other pocket, I recommend the Olympus M.Zuiko Digital 17mm f/1.8 lens that isn't too much bigger.
The nice thing is, when it's time to go to work for that big photo assignment, get your camera bag and PRO optics, then swing for the fences.
The OM System OM-1 digital camera has got to be one of the most versatile cameras on the planet.
Product Links and Comments
There are product links in this article that contain affiliate tags. In some cases, depending on the product, The Digital Story may receive compensation if you purchase a product via one of those links. There is no additional cost to you.
You can share your thoughts at the TDS Facebook page, where I'll post this story for discussion.