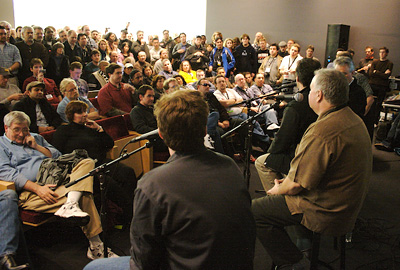 A terrific group of podcasters congregated at the Apple Store on Thursday, Jan. 11 to discuss nearly every facet of this popular medium. I was lucky enough to join the panel that included Adam Christianson, Leo Laporte, Alex Lindsay, Scott Bourne, Merlin Mann, Andy Ihnatko, and many more. You can listen to that discussion by downloading the Podcaster Meetup on the Maccast web site.
On a separate podcasting note, the Digital Story episode that typically runs on Tuesdays will be delayed until Thursday. But it will be worth the wait. I have an interview with the incredible Colleen Wheeler who gives us an inside look at photography book publishing and discusses her work with famous photographers such as Stephen Johnson, Mikkel Aaland, Eddie Tapp and more. It's a terrific conversation that I'm sure you'll enjoy... but you have to wait until Thursday.
Technorati Tags: digital photography, podcast, The Digital Story
---
Sponsor Note...
ExpoDisc Custom White Balance -- Simply Better Color. Simply Better Pictures. Visit www.expodisc.com