How can iPad-toting photographers store large amounts of data while on the road? The folks over at HyperShop may have a solution: the HyperDrive iPad Hard Drive. About the size of a portable USB hard drive, the HyperDrive iPad is a media storage device that connects to the iPad via the Camera Connection Kit (yes, you have to have that first). Models range in capacity from 120 GBs to 750 GBs.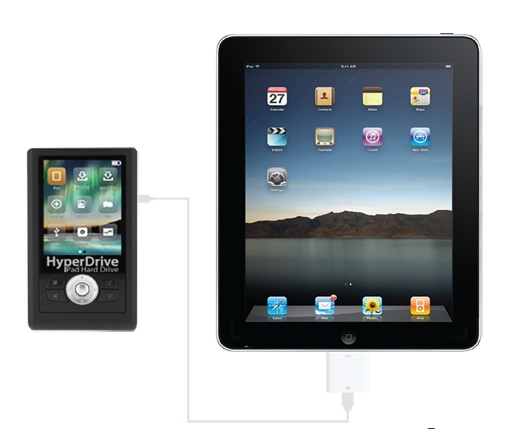 Sanho, the makers of the product, have figured out how to work around the iPad's 32 GB size limitation of external drives. With 2 memory card slots and a 3.2" color LCD, the Hyperdrive iPad can receive and store images directly from your camera's memory card. If you want to transfer or view any of the media on your iPad, then connect the device via its USB cable the the Apple Camera Connection Kit. Suddenly the iPad becomes a long term travel device thanks to this additional storage and back up.
Prices range from $299 US to $599, and you can purchase directly from the HyperDrive site.
---