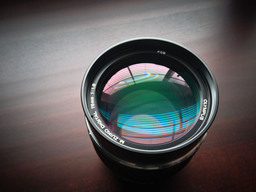 The ability to create soft backgrounds is important for pros and serious enthusiasts. Some have shied away from micro four thirds cameras, such as the Olympus OM-D because its sensor is smaller than full frame or APS-C -- an important factor in creating soft backgrounds.
But the lens you put on the camera can help with this cause. And some lenses do an admirable job of providing us with creamy bokeh, while still lightening the load on our shoulders. An excellent example is the Olympus M.Zuiko Digital ED 75mm f/1.8 ($899 and now available in black as well as silver).

Cactus with Olympus 75mm at f/1.8, ISO 200
The Olympus 75mm has a quality that provides for high sharpness where the lens is focused, but falls off quickly creating a very appealing background. You can see from the image above, that fall off begins with the cactus in the back. Notice how smooth the green area is in the lower left of the frame.
The all metal Olympus 75mm is compact (2.7 x 2.5") and weighs a very reasonable 10.7oz. Its silent focusing also makes it a good choice for video work. I'll show you how it works for portraits in a future post.
---
Take a look at the Olympus Micro Four Thirds Gear Guide for an overview of cameras, lenses, and accessories.
Want to Comment on this Post?
You can share your thoughts at the TDS Facebook page, where I'll post this story for discussion.