Do you have images on Facebook, Flickr, Picasa, or Instagram... or all of them? Have you cataloged pictures in iPhoto, Aperture, or Lightroom? Do you have these photos available to you anywhere, at anytime, using practically any device? I do. I'm using Everpix 2.0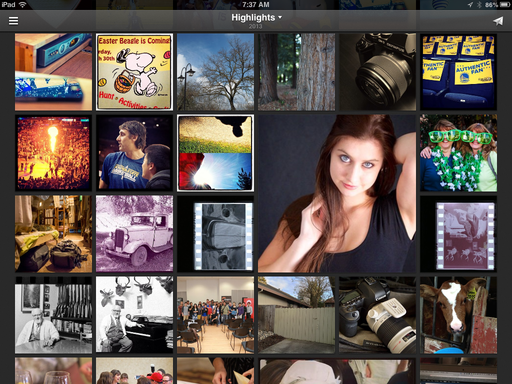 Everpix 2 running on an iPad mini
Everpix is a cloud-based photo platform that provides storage, sharing, and enjoyment. It can aggregate the best versions of your images from practically any source and make them available to you on a computer or mobile device. It applies sophisticated under-the-hood science to understand your photos beyond EXIF data and presents them to you in an attractive, easy to digest user interface.
The essence of Everpix is this:
Solves the "photo mess" - images scattered everywhere instead of aggregated in once central location. Yet, you still can continue to take shots with multiple devices and organize them in your photo management applications, just as you've always done. Just point Everpix to your various sources, and it will copy the images and eliminate the duplicates.

Taps content from various devices including mobile phones, tablets, image libraries, and social networking sites. Everpix lets you bring this content together into one place. You can continue to capture and edit content anyway you want.

Lets you view your Everpix library from just about any computer or mobile device. Want to see your Aperture, iPhoto, Lightroom, and Flickr images in one place? Everpix can do that.
You can learn more and set up a free account today at Everpix.com. Also, tune in to next week's TDS podcast on July 2, 2013, where I interview co-founders Pierre-Olivier Latour and Wayne Fan. They really get into the details of this impressive cloud-based service for photographers.
---
iPad for Digital Photographers
This is the kind of stuff I write about in iPad for Digital Photographers
-- now available in print, Kindle, and iBooks format.
Want to Comment on this Post?
You can share your thoughts at the TDS Facebook page, where I'll post this story for discussion.