This week on The Digital Story Photography Podcast: Golden Age of Cameras, Senior Portraits at Taco Bell, Perfect Browse 9.5, Sigma 24mm f/1.4 prime - all of this and more on today's show with Derrick Story.
Weekly Update - "This app is the nightmare of wedding photographers brought to life". Imaging Resource reports: "Wedding photographers might want to look away. A new app called Ceremony is looking to crowdsource wedding photography using guests and their smartphones. Available for download on iOS and Android, Ceremony allows couples to set up a dedicated event in the app and invite guests to join via an email or custom URL."
In other news, PetaPixel reports: "Photographer Shoots High Schooler's Senior Portraits at Taco Bell - Missouri-based photographer Brendan Batchelor recently received a strange photo shoot request: a high school senior named Brittany Nicole Creech wanted to shoot senior portraits at a local Taco Bell. In addition to being published across the Web and being shared thousands of times on social media, Creech also succeeded in getting Taco Bell's attention. If Creech does end up with a successful career in modeling or acting, she has photographer Brendan Batchelor and a set of Taco Bell senior portraits to thank!
Story #1 - "The Golden Age of Cameras" -
I just read a fun post at The Online Photographer titled, I Love Today's Cameras. I thought the author, Mike Johnston, made some terrific points. And in a lot of ways, I agree with him. So, are we in the golden age of cameras? I talk about that in today's first segment.
Story #2 - Perfect Browse 9.5 by OnOne Software
We worked with Perfect Browse at our Moving from Aperture workshop. It's fantastic as a front end to Lightroom, or just about any photo editing app. Here's why we liked it so much.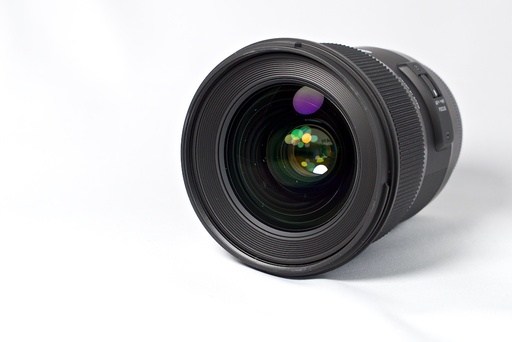 Story #3 - The Sigma 24mm f/1.4 Prime (for Canon, Nikon, and Sigma)
Sigma continues its appealing hot streak in the Art lens category with the 24mm f/1.4 DG HSM ($849). This hefty hunk of glass weighs in at 1.46 pounds and is 3.55″ long. Mounts are available for Canon, Nikon, and Sigma. We tested the Canon version on a full frame 5D Mark II.
Aside from its remarkable f/1.4 maximum aperture (no easy feat with a 24mm), the Sigma features 9 aperture blades, fast autofocusing, 15 elements in 11 groups, and a 77mm front filter thread. The build is solid with a well-damped manual focusing ring, which has real-time override. The AF/MF switch is on the left side of the barrel. Kit includes deluxe case, lens hood, and front and back caps. I talk about my first impressions in the second story of today's podcast.
Story #4 - From the Screening Room - Video for Photographers 01: Filmmaking Essentials with Eduardo Angel.
You can watch Eduardo in action by visiting the TDS Screening Room at lynda.com. While you're there, you can start your 7 day free trial to watch all of Eduardo movies, plus every other title in the library.
Virtual Camera Club News
Update from SizzlPix - Our product improvement to 5k Ultra High Definition SizzlPix has brought on cost increases requiring our raising prices for the first time since launching SizzlPix over 5 years ago.
TDS listeners can avoid the new prices by selecting favorite images and ordering over the next few weeks, ahead of the announcement. All the benefits and warranties remain, including free mini samples on request, no payment requested until their image is approved by our engineers for 5k Ultra High Definition SizzlPix quality, and even no payment at all until February 2016 with PayPal credit, plus our full guarantee of satisfaction.
Fall Color with Safari West: October 23-25, 2015 - Sonoma County has rolling hills covered in vineyards, beautiful trees, and gorgeous blue skies. What a prefect place to shoot Fall color and bolster your landscape library. But there's more. We include environmental portraiture with a professional model, and an exclusive African wildlife photo adventure at Safari West, led by a professional photographer, plus a few surprises. This is our longest running workshop of the season, and for good reason. Two full days plus pre-workshop reception, breakfast and lunch, excellent swag, professional model, private Safari West adventure with a pro photographer guide - all included for just $599.
Thanks to everyone who recently reviewed the TDS Podcast in iTunes!
BTW: If you're ordering through B&H or Amazon, please click on the respective ad tile under the Products header in the box half way down the 2nd column on thedigitalstory.com. That helps support the site.
Download the Show - MP3 Version
In addition to subscribing in iTunes, you can also download the podcast file here (33 minutes - MP3 version). You can support this podcast by purchasing the TDS iPhone App for only $2.99 from the Apple App Store.
More Ways to Participate
Want to share photos and talk with other members in our virtual camera club? Check out our Flickr Public Group. And from those images, I choose the TDS Member Photo of the Day.
Podcast Sponsors
lynda.com - Learn lighting, portraiture, Photoshop skills, and more from expert-taught videos at lynda.com/thedigitalstory.
Red River Paper -- Keep up with the world of inkjet printing, and win free paper, by liking Red River Paper on Facebook.
SizzlPix! - New 5k Ultra High Definition SizzlPix output for your photography. You've never seen your imagery look so good. SizzlPix.com.
Want to Comment on this Post?
You can share your thoughts at the TDS Facebook page, where I'll post this story for discussion.