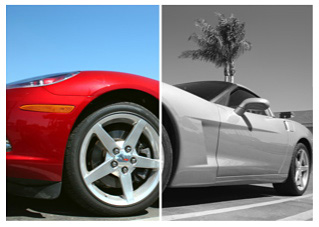 The folks at Alien Skin Software market their latest Photoshop plug-in, Exposure, as a film simulator. That's right, they've analyzed dozens of film stocks and brought those unique characteristics to your digital photos. So if you're in the mood for the vivid colors of Velvia or those rich Kodachrome blacks, you can have them with just the click of a mouse.
Where Exposure really turned my head though was how effortlessly it handled Black & White emulation. Most of my favorite films were there -- Tri-X, T-Max, Delta 100, Neopan, and HP5 -- and they look great. Never has film grain been such a welcomed sight. And unlike the old days, I can control the grain in the shadow, midtones, and highlights... and even the size of the grain itself. The Alien Skin presets for the different film stocks are all you'll probably ever need, but if you really want to tinker, they can be the starting point for you creating your own film stock (and saving it for future use).
Needless to say, Exposure is a terrific B&W converter for your digital images. Not only will they look like "real" B&W photos, you have an array of "film looks" to choose from. Print one of these conversions on a quality B&W printer, such as the Epson R2400, and you'll never yearn for the stench of Rapid Fixer again.
You have all sorts of additional controls beyond film emulation, such as curves, sharpness, and toning. There are some nice UI features such as a variety of split preview panes to choose from, a toggle button to see the original photo, and a magnifier. All of this functionality and convenience comes at a price however; Exposure will set you back $199. To decide if you think it's worth the money, you can download it and play with a fully functional version for 30 days. I recommend that you give Exposure a try. It works on both Mac and Windows platforms.
Technorati Tags: digital photography, product review