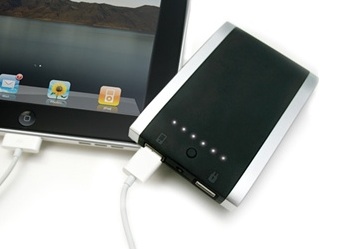 I was able to get my hands on a production model of the Mophie Powerstation
to see how well it performed with the iPhone and iPad. I originally wrote about the Powerstation after seeing it demoed at a Mobile Focus event. For being so light and compact (not much bigger than an iPhone), it packs quite a punch. It can fully recharge my iPhone 3GS, and partially refuel the iPad.
Here's a representative test for each device.
iPhone 3GS
My iPhone battery was down to 34 percent. I connected a fully charged Powerstation (6 LED lights showing), and 1:40 later, the phone was showing 100 percent charge. The Powerstation still had energy left also - 4 LED lights glowing. I plugged in the Powerstation to recharge it, and it took 2:30 to reenergize.
iPad 3G
Anyone who's every charged an iPad knows how much juice it takes to replenish those big batteries. I connected my iPad showing a 42 percent charge to the Powerstation, and it reached 82 percent before the Mophie ran out of gas (0 LEDs showing). This process took 2:15.
Additional Features
I like the standby switch that prevents power drainage when the Mophie is not in use. I had misunderstood earlier that it had "pass through" charging, but when I tested it, the Mophie did not have this feature. You have to charge the Powerstation and your i-device separately. The LED indicators are a nice touch and work well.
Bottom Line
The Mophie Powerstation is a 3600 mAh device that charges up to 2 amps, works great on iPods and iPhones, and it can buy you some extra time on the iPad. It's not cheap at $99
-- but it's powerful and well-designed. And if you need juice on the go, you'll be glad to have one in your backpack.
---