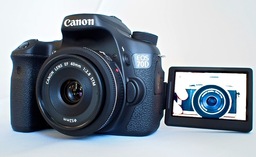 Have I noticed an improvement in autofocusing, both in terms of speed and accuracy, after a couple weeks of shooting with the new Canon EOS 70D camera? The short answer is yes.
The highlights can be summarized in just a few points.
Live View focusing for stills and video is faster and more accurate.
Since Live View is on par with optical AF, I'm using it far more, especially in the studio.
I haven't noticed any downside to using Dual Pixel AF.
If you want to see an excellent report on Dual Pixel AF accuracy, take a look at Dual Pixel AF vs. Conventional AF accuracy at DP Review. It's a terrific deep dive into the AF system on the Canon 70D.
Bottom line is this: Canon delivers a top notch AF system in an affordable DSLR body $1,200 US. Live View focusing is further enhanced by the 70D's Vari-angle 3-inch touch screen with a resolution of 1,040,000 dots. And the system works great with practically any existing EF or EF-S lens.
Want to Comment on this Post?
You can share your thoughts at the TDS Facebook page, where I'll post this story for discussion.
---
PhotoHelpDesk.com is a down-to-earth resource for curious minded photographers. Submit your questions, and we'll post an answer.