The Clarity and Structure tools in Capture One Pro allow you to adjust both fine and coarse detail in your images. There are different algorithms to choose from, so you can use "Natural" for portraits and "Neutral" for objects. And because the sliders are centered positioned, you can both increase and decrease the effect, depending on your subject.
In this training video, I show you how to use Clarity and Structure for both objects and for portraits. I review the different modes so you can see exactly how to get the effect you want for your images.
More Capture One Pro Tips and Techniques
Improve your skills by watching Capture One Pro Essential Training now available on lynda.com. More than 5 hours of tips, tricks, and techniques. Plus many free movies using advanced techniques.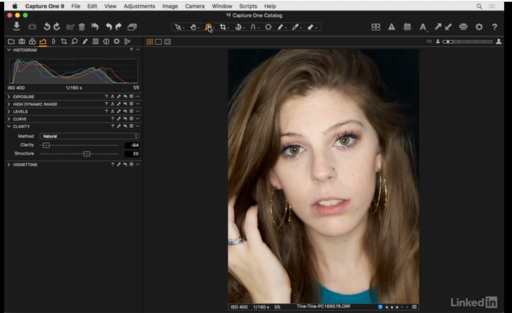 I've also created a dedicated Capture One Pro Training page on The Digital Story. You can follow all of the tips and techniques that I publish in one convenient spot.
Thinking About Making the Transition from Aperture or Lightroom? - Download my free eBook titled, Rocky Nook's Guide to Moving to Capture One Pro. I show you the steps to create a test library, then build the foundation for a smooth transition to Capture One Pro.
Want to Comment on this Post?
You can share your thoughts at the TDS Facebook page, where I'll post this story for discussion.