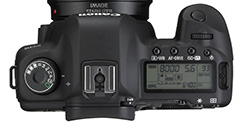 Rob Galbraith has just posted an excellent preview for the Canon EOS 5D Mark II. "Canon has announced the EOS 5D Mark II, an update of the oldest camera in its digital SLR lineup and one that the company promises will deliver the best image quality and lowest noise of any EOS model to date," reports Galbraith. "Headlining the 5D Mark II is a 21.03 million image pixel full-frame CMOS sensor that is derived from the sensor in the EOS-1Ds Mark III, but with several improvements meant to improve shadow rendering and noise levels at all ISO settings."
"The refined sensor is also at the heart of Canon's first foray into digital SLR video: the 5D Mark II can record clips at 1920 x 1080 pixel (1080p) resolution, with sound (captured via either a built-in mono mic or through an external mic connected to the camera's stereo mic jack)."
I was excited when Nikon announced the D90 with movie mode. Canon had topped Nikon here with full 1920 x 1080 resolution at 30fps. And they included an external mic jack. Yes!
The new Canon 5D should ship before the end of November for $2,699 US.
Technorati Tags: Derrick Story, digital photography, Technology, The Digital Story, Canon 5D Mark II