This is The Digital Story Podcast #597, August 15, 2017. Today's theme is "I've Got Shotgun!" I'm Derrick Story.
Opening Monologue
In my mind, road trips are a two-person activity. One needs to focus on driving, while the other serves as navigator. And with the current mapping technology, sudden route changes to avoid traffic jams are a great benefit if you have someone to monitor the situation. These days, that person would be me. And the side benefit to acting as navigator is that you also enjoy tremendous photography opportunities. And we're going to explore those on today's show.
I've Got Shotgun!
For those of you unfamiliar with "riding shotgun," the term was coined durning stagecoach days when the person seated to the right of the driver was assigned the task of protecting the entire crew, with shotgun in hand, as they traversed the trails of the west.
When I was a teenager, we didn't have to worry much about bandits pulling us over in Southern California, but riding shotgun was definitely the preferred seat because you weren't stuck in the back of the car.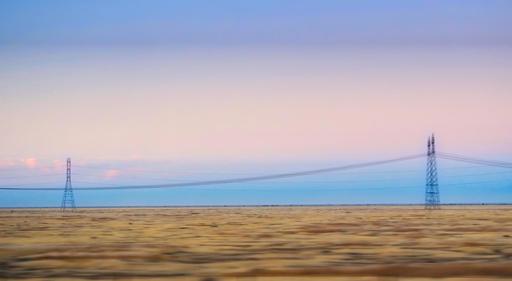 Today, I'm still seated on the right side, but now with an iPhone in hand navigating the complicated California freeway system as we travel up and down the state. My skills as a navigator have earned me that position. And the side benefits of the job are unlimited photo opportunities. If you too can take advantage of this situation, here are a few things to help you maximize your opportunity.
Prepare your camera kit for front seat travel. Keep the bag small and gear accessible. Remove any protection filters from lenses that you might use. Be sure that the flash is off.
Keep the windows clean. If shooting through the windshield, then position the camera as close to the glass as possible, and be aware of possible reflections in the scene. Roll down the side window when possible (but this depends greatly on the views of others along for the ride.) Your polarizer can come in handy as well.
Experiment with techniques that you normally don't have time for. Test art filters, monochrome, film emulations, and more.
Be ready for sunrise and twilight.
Use motion to your advantage. Practice the "near and far" rule for shooting out the side window.
My last tip is not to judge while you're shooting. You'll have plenty of time later to evaluate what works, and what doesn't. The magic of shotgun photography is to let go so you can capture that wildly unique shot that you never anticipated, but dearly love.
How to Test Your Solar Eclipse Glasses
Time Magazine published a helpful article about fake solar eclipse glasses with some advice that I want to pass along to you.
It's not enough today to just look for the ISO certification, as many vendors have started printing glasses with ISO certifications -- even if the glasses do not meet industry standards, experts warned, so your best bet is to only buy from trusted vendors.
If eclipse glasses were purchased from an unauthorized dealer online, experts suggest conducting an at-home test. When you look through the lenses, the AAS said, you should not be able to see anything except for the sun or anything else significantly bright, like a halogen light bulb or a bright-white LED flashlight. All such sources of light should look dim through real eclipse glasses. The glasses also should not have any tears or scratches on them.
You need to wear the glasses during the partial solar eclipse, when the sun is partly blocked by the moon, but can take them off for the brief totality phase, in which the sun's light is entirely blocked for up to 2 minutes and 40 seconds.
The solar eclipse is coming to North America on Monday, August 21, 2017.
Using Cascable 3 "kas-ka-ball" as a Remote Control for Your Camera
This week I want to cover how I set up my Olympus PEN-F for remote control with my iPhone. Here are the steps.
Turn on your camera and enable WiFi Then launch the Cascable app on your iPhone. It will automatically find your camera's WiFi connection.
In Cascable, turn on the Histogram, Zebra Stripes (Pro), and Grid. Tap on the green Histogram icon on the bottom toolbar. (When you're in live view mode the histogram appears on the screen above the image.
Go to Camera Settings (green camera back icon) and set the Exposure Mode to P, White Balance to Auto, and Drive Mode to Single.
View the scene on the iPhone. Check the image, look for zebra stripes, and most importantly, study the live histogram.
Tap on the Exposure Compensation icon and adjust the exposure using the histogram and the live view of the scene. The live histogram makes this process very easy.
When everything looks good, take the picture.
If you haven't used Zebra Stripes before, keep in mind that many scenes have some spectral highlights. So you're not necessarily trying to eliminate the stripes all together.
The Olympus O.I. app doesn't have the live histogram (free) nor the zebra stripes (Pro) capability.
Cascable is available to get started with for free from the iOS App Store. Cascable's Pro features come with a free trial when subscribing from $2 per month, or can also be unlocked with a one-time $29.99 purchase.
We have a tile on all the pages of The Digital Story that takes you directly to the TDS landing page on the Cascable site.
New Subjects Added to The Nimble Classroom
I've trying to figure out a way to bring more personalized training to photographer without them having to travel. It's one thing to get on a plane to photograph wine country or the French Quarter, but not quite as alluring to sit in a classroom for two days.
As a result, I've designed a new approach called, The Nimble Classroom. And now there are four courses for the Summer Session of The Nimble Classroom.
August 19, Catalog Management, Capture One Pro
September 9, Expert Editing, Capture One Pro
September 23, Luminar Pro Techniques
October 7, Photos 3 for macOS
You can learn more about them and sign up for your favorites by visiting The Nimble Classroom online.
Updates and Such
Big thanks to all of our Patreon members!
We still have one spot open for the Autumn in Wine Country Photography Workshop this coming Oct. 26, 27, and 28.
B&H and Amazon tiles on www.thedigitalstory. If you click on them first, you're helping to support this podcast. And speaking of supporting this show, and big thanks to our Patreon Inner Circle members.
And finally, be sure to visit our friends at Red River Paper for all of your inkjet supply needs.
Texas-based Red River Paper recently announced a new fine art paper, Palo Duro Etching. The new paper is a 100 percent cotton rag paper and is free of optical brightener additives. The paper is designed to offer warm white tones, deep blacks and a subtle texture to accurately recreate traditional darkroom fine art prints.
See you next week!
More Ways to Participate
Want to share photos and talk with other members in our virtual camera club? Check out our Flickr Public Group. And from those images, I choose the TDS Member Photo of the Day.
Podcast Sponsors
Cascable - Cascable is the best tool available for working with your camera in the field.
Red River Paper - Keep up with the world of inkjet printing, and win free paper, by liking Red River Paper on Facebook.
The Nimbleosity Report
Do you want to keep up with the best content from The Digital Story and The Nimble Photographer? Sign up for The Nimbleosity Report, and receive highlights twice-a-month in a single page newsletter. Be a part of our community!
Want to Comment on this Post?
You can share your thoughts at the TDS Facebook page, where I'll post this story for discussion.