This is The Digital Story Podcast #617, Jan. 9, 2018. Today's theme is "Beer and Roaming in Las Vegas." I'm Derrick Story.
Opening Monologue
The Consumer Electronics Show is one of the few remaining technology events where press still receives the red carpet treatment. We enjoy a well-stocked media center, excellent PR events with substantial refreshments, and lots of access to the stars of the show. And this week I'm going to take you behind the scenes as we junket together at CES.
Beer and Roaming in Las Vegas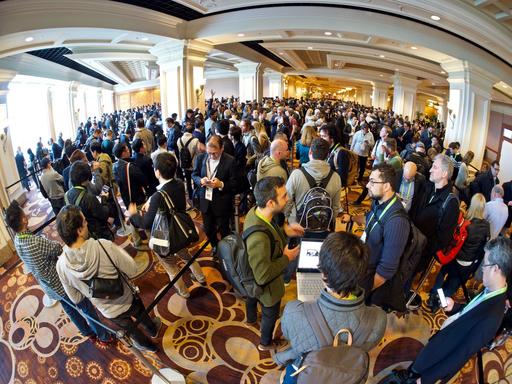 "Waiting for the Samsung Press Event" - A sea of journalists waiting in line at the Mandalay Bay Convention Center for the Monday Samsung press conference. Photo by Derrick Story.
I take you behind the scenes for the press day that precedes the opening of CES in Las Vegas.
Panasonic announces Lumix DC-GH5S, an even more video-focused GH5
DP Review reports: The GH5S uses a slightly larger, but lower resolution 12.5MP sensor whose 'multi-aspect' design offers a series of ~10.2MP crops with the same angle of view. It gains the ability to shoot the wider-angle DCI 4K format at up to 60p, whereas the GH5 tops out at 24p. Both cameras can shoot UHD 4K at up to 60p.
The sensor features a "dual gain" design that Panasonic calls "Dual Native ISO." This uses two separate sensor read-out circuits - one that maximizes dynamic range at lower sensitivities, and one that prioritizes noise reduction at a dynamic range cost. Unusually, Panasonic lets you limit its camera to one of these modes.
The Panasonic Lumix DC-GH5S will be available February 2nd for $2499 body-only.
The 2018 Nimble Classroom Series
The 2018 Nimble Classroom Series begins in February. Here are the first three sessions:
Layers in Capture One Pro 11 - Feb. 10
BUILD YOUR DIGITAL DARKROOM WITH PHOTOS - MARCH 10
Digital Asset Mgmt with Luminar - April 21
You can sign up right now for each of these and reserve your spot. Only 6 participants per class.
Updates and Such
Three new training videos are now posted for our Patreon Inner Circle Members:
Tips for Importing Images into Photos for macOS
Using Gradient Masks in Luminar
Working with Light Adjustments in Capture One Pro
You can become a member of our Inner Circle by clicking on this link or by clicking on the Patreon tile that's on every page of The Digital Story.
B&H and Amazon tiles on www.thedigitalstory. If you click on them first, you're helping to support this podcast. And speaking of supporting this show, and big thanks to our Patreon Inner Circle members:
And finally, be sure to visit our friends at Red River Paper for all of your inkjet supply needs.
See you next week!
More Ways to Participate
Want to share photos and talk with other members in our virtual camera club? Check out our Flickr Public Group. And from those images, I choose the TDS Member Photo of the Day.
Podcast Sponsors
Videoblocks - Go to videoblocks.com/digitalstory to get all the stock video, audio, and images that you can imagine for just $149. Save on millions of studio-quality clips, tracks, and graphics.
Red River Paper - Keep up with the world of inkjet printing, and win free paper, by liking Red River Paper on Facebook.
The Nimbleosity Report
Do you want to keep up with the best content from The Digital Story and The Nimble Photographer? Sign up for The Nimbleosity Report, and receive highlights twice-a-month in a single page newsletter. Be a part of our community!
Want to Comment on this Post?
You can share your thoughts at the TDS Facebook page, where I'll post this story for discussion.