Graduation season is underway, and it's an opportunity to capture memorable shots for sharing with family and friends. As with any photo opp, a little planning goes a long way toward coming away with successful images.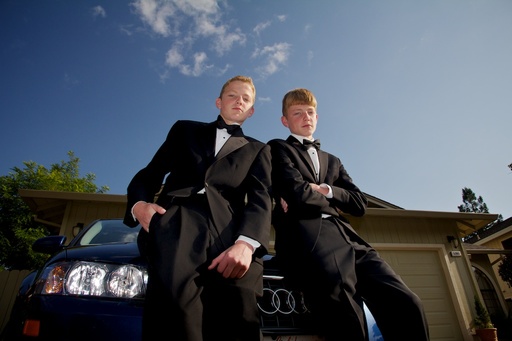 Photos before the event give you a little extra time to have fun and play with camera angles. Fill flash helped balance the contrasty outdoor lighting.
Here are a few tips to make sure you're ready to go.
Travel Light - You're not off to shoot the Olympics. Unless you're there on assignment, you want to have a good time, show support, and not be a distraction to others. Plan ahead. Find out about the setting, lighting, and the flow of activities. Choose your lens and know how you're going to set your camera before getting in the car. Once there, try to get a good seat. By being prepared, you'll need less gear and be able to enjoy the event.

Get Shots Beforehand - You don't have control over what happens at the event, but before things get started, you can flex your creative muscles. If possible, take a series of images prior to things getting started. They'll most likely be your favorites of the day.

Consider Fill Flash Outdoors - Typically, you have to work fast when you get a photo opportunity, so you don't always have control over lighting and positioning. By using fill flash outdoors, you can even-out the lighting and come away with good photos regardless of the environment.

Play with Angles - Once you get the basic shots, play with compositions by rasing and lowering the camera. I've noticed that kids, in particular, like dramatic viewpoints.

Don't Forget that Your Camera Shoots Video Too - Some moments are perfect for short movies that you can mix in with your stills for a truly professional presentation. Remember to record some video too. You'll thank yourself later.

Bring an Extra Battery and Memory Card - Just put them in your pocket.
Once you've organized your images and touched them up, share them with others via online galleries or email. They'll love having such an adept (and organized) photographer in the family.
---
The Digital Story on Facebook -- discussion, outstanding images from the TDS community, and inside information. Join our celebration of great photography!
---