How many times have you gone to a movie or tried a restaurant because a friend suggested it? Personal recommendations are powerful. We know that, and so does Olympus. And this past weekend they wanted to acknowledge the efforts of some of their super fans in North America. I was there to cover the event.
One of the stops during super fan weekend was Muir Woods, just north of San Francisco. Photos by Derrick Story.
In terms of participants, it was an interesting mingling of Olympus Visionaries (top photographers who embrace the brand), Olympus marketing and technical staff, and a dozen super fans from throughout the country. They were all brought together in San Francisco for briefings, exchange of ideas, and making images with Olympus gear.
One of the first things that I noticed while working with these photographers was just how knowledgable they were about micro four thirds photography. They understood how to set up their cameras to make beautiful images. I learned a number of tips from them.
These are enthusiasts who organize user groups, build followings online, take on assignments, and sometimes even have freelance businesses on the side. Essentially, when they're not at their day jobs, they live and breath photography.
Olympus realizes how important these customers are to their community. And I think they've learned a lot over the years conducting their "experientials" for the press. Now, they're designing similar events for the influencers who promote their brand and products at the grassroots level.
Riding the Golden Gate Ferry from Sausalito to San Francisco. Photos by Derrick Story.
The exchange of ideas that flow over the course the day are invaluable to everyone involved. Olympus staff have a chance to hear directly from customers while they work together in the field. The super fans get to test new gear, ask questions, and learn more about the company.
These experientials are a substantial investment by Olympus. But they help the company stay in touch with its users while at the same time acknowledging their efforts.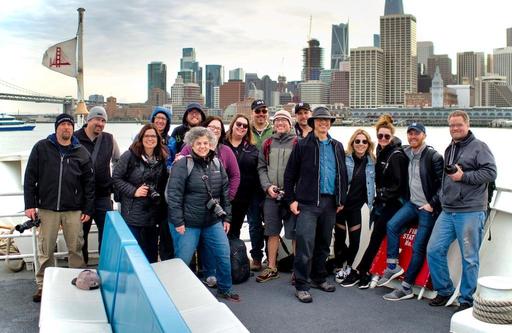 Olympus staff and super fans returning from a day of micro four thirds photography in the bay area. Photo by Derrick Story.
If you want to get more involved, visit the Inspiration pages on the Olympus site and check out the photo contests and upcoming events. The hashtag for this super fan event is #CapturingSanFrancisco (if you want to see more). Use the hashtag #getolympus when posting photos online captured with Olympus gear. Follow Olympus on Twitter and Facebook. They also have a terrific Instagram feed.
You can share your thoughts at the TDS Facebook page, where I'll post this story for discussion.