Now that I've had a chance to spend a bit more time with Mac OS X 10.11, I thought I'd share my experience with it installed on a 2012 15" MacBook Pro with Retina Display.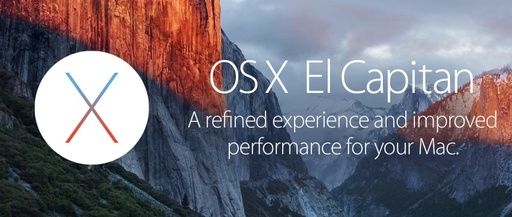 In general, performance is very good. Windows open quickly, apps launch cleanly, and things feel healthy. One area that seems to move a bit slower than before is switching from one user to another. Not quite sure what's going on under the hood, but it's not a deal breaker.
Photo Apps
Photos for OS X is the snappy performer that you'd expect from an app recently written from the ground up. The new Photo Extensions are cool. And I like the addition of geotagging.
Aperture 3.6 seems to have a stay of execution on El Capitan. The only real bug I've found so far is that onscreen proofing no longer works. Other than that, all seems good. I even sent a print via WiFi to the Epson R2000 from Aperture. Beautiful!
Lightroom CC 2015.2 generally runs OK for me, but there seems to be a few lingering issues in the community. If you're noticing a performance hitch, turn off "Show 'Add Photos' Screen" via the General tab in Preferences. Some feedback from our TDS photography clan has been harsher, with reports of having to roll back to the previous version of the app. I've read online experts recommending holding off on the LR CC upgrade for the time being. You might want to research this if Lightroom is a mission critical app for you.
Audio Recording
Audio had been a far more challenging issue for me. None of my M-Audio USB interfaces are working with El Capitan. The MobilePre device just records static, and the FastTrack doesn't capture anything.
I finally found a device in my stash that would work: the MXL-TEMPO-KR Condenser Microphone with built-it USB audio interface records well with Mac OS X 10.11. This is a bit ironic for me. With all of my expensive audio recording gear, the device that saved me is a $69 condenser all-in-one device. And for some reason, it sounds better with El Capitan than it ever did before. Go figure. (I really like the snappy red and black design, however.)
Other Apps and Final Word
Everything else that I use daily: Pages, Audio Hijack Pro, Fission, Perfect Browse 9, Transmit, Moon Invoice, iA Writer... and more, all seem good
So my bottom line, after one week, is that El Capitan is a positive upgrade that appears to improve performance. The only current gotchas for me have been some audio interfaces and possible Lightroom hiccups. If either of these are important to you, you might want to wait a bit longer.
Want to Comment on this Post?
You can share your thoughts at the TDS Facebook page, where I'll post this story for discussion.