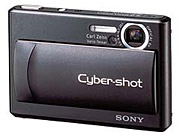 Camera manufacturers continue to find ways to squeeze more pixels onto the sensors in our digital cameras. In a recent Cnet article by Stephen Shankland, the question comes up: Is this compromising overall image quality?
The answer varies among experts. Camera manufacturers don't think that more megapixels in the same space hurt image quality. Other folks, such as Dave Etchells from The Imaging Resource thinks there is an overall increase in image noise as a result of the megapixel race.
I tend to take a middle of the road approach here. I see no need to cram 10 megapixels into my compact camera. Six or 7 megapixels are just fine, and I am happy with the image quality I'm getting at the lower ISOs. For my DSLRs however, I want more resolution so I can make big prints. It's a scenario of choosing "the right tool for the job" for me.
But the Cnet report is interesting, and you might want to take a look at it.
Technorati Tags: digital photography, The Digital Story