I admit it, I shoot RAW+Jpeg a lot - and for many good reasons. These days, I just pile everything into Capture One Pro, then sort things out in the app. I can do this because of the terrific C1P tools, with Global Filters at the top of the list.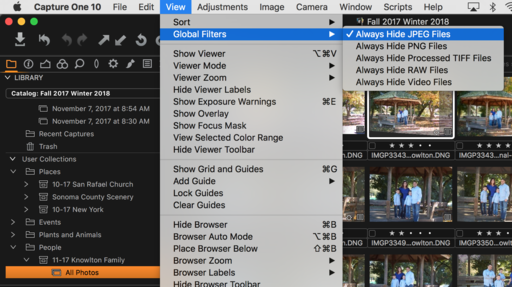 Generally speaking, when it's time to rate images and decide which ones are worthy of editing, I just want to work with the RAW files. So all I have to do is go to View > Global Filters > Always Hide Jpeg Files. (There are other options as well, depending on the situation.) The Jpegs remain in the catalog, I just don't see them. So then I can go about my business of working just on the RAWs. Here's a movie that shows this in action.
Use global filters from Advanced Capture One Pro: Library Management by Derrick Story
It's a little thing, right? But little things really add up when you're under the gun with finishing off a shoot.
Master Capture One Pro
Start with Capture One Pro 10 Essential Training that will quickly get you up to speed with this pro level imaging application.
Then drill down into mastering the editing tools with Capture One Pro 10: Retouching and get supremely organized with Advanced Capture One Pro: Catalog Management.
You can share your thoughts at the TDS Facebook page, where I'll post this story for discussion.