One of the many fun shooting modes with the DJI Spark is Panorama. The aircraft precisely captures eight frames that can be combined into a broad view image.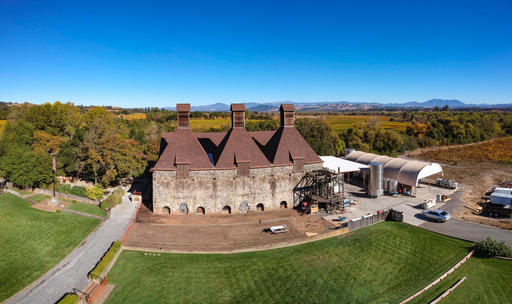 Hop Kiln Winery from 50 feet in Panorama mode. Photo by Derrick Story.
The Spark will also stitch the images together for you. This is nice for an immediate view of your work. I use an iPad mini to control the drone, as well as review its pictures in the field.
But for higher quality output, I take the micro SD card out of the Spark and copy the files to my Mac for stitching in Lightroom. This version of the panorama is far superior to what the DJI software creates. Lightroom reads the files perfectly and creates a high resolution (6010 x 3570 - 21.5 MP) image that you can further adjust in the Develop Module.
In addition to the photo itself, you also record all of the location data including altitude. If you like shooting panoramas, you'll love capturing them with the DJI Spark. Just remember to take those files and process them in your favorite stitching software.
More About the DJI Spark
Exporting a Single Frame from Video
You can share your thoughts at the TDS Facebook page, where I'll post this story for discussion.