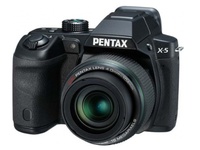 Been thinking about getting an all-in-one super zoom digital camera? Well, this is your lucky week. Pentax, Olympus, Nikon, and Canon all announced new models.
What type of photographer is the super zoom designed for? Someone who wants extended focal length topping out with long telephoto, but in a reasonably sized body. There's no messing around with interchangeable lenses. The kit you buy is the kit you use.
The Pentax X-5 ($279) features a 22.3-580mm zoom on a 16 MP body. It's powered by 2 rechargable AA batteries.
The Olympus SP-820UZ iHS ($329) sports a crazy 22.4 - 896mm zoom lens on a 14MP body. It also uses AA batteries.
The Canon PowerShot SX500 IS ($329) uses a 24-720mm zoom on a 16MP body.
And finally, the Nikon COOLPIX P7700 ($499) is designed for those who want reach, but like to shoot in low light. Its 28-200mm lens has a maximum aperture of f/2.0. The P7700 sports a 12MP body that can capture images at a fast 8 fps.
If you're looking for a lot of reach in a small package, one of these super zooms might do it for you.
---
The Digital Story on Facebook -- discussion, outstanding images from the TDS community, and inside information. Join our celebration of great photography!
---