The world looks much different when viewing it on the LCD of an Infrared-modified camera. The sky darkens, clouds glow with intensity, and trees look like they belong on another planet. There are many applications for an IR-modified camera, including for law enforcement, but fine art photography is one of the most enjoyable uses.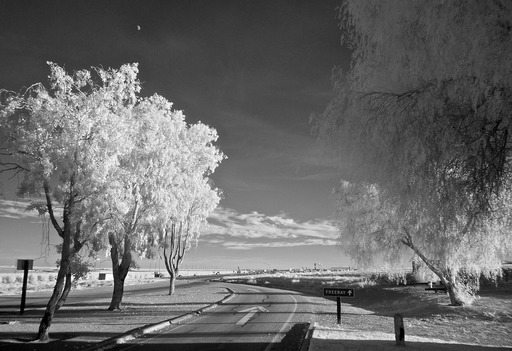 I5 Rest Stop Exit - Captured with an IR-modified Olympus E-P1. Photo by Derrick Story. Click on image for larger version.
I've been shooting with an Olympus E-P1 modified by W.B. Hunt Co. in Melrose, MA. You can see a gallery of images captured with this rig on the TDS Flickr page. If you're interested in an easy and enjoyable way to shoot IR, you might want to look in to these modified kits. Prices for conversions range between $149.95 and $399.95, depending on the camera to be converted. You can find out more by contacting Stan Goldberg at W. B. Hunt. The phone number is 781-462-2319, or contact him via email, sgoldberg[at]wbhunt[dotcom].
---