There's been some chatter around Affinity Photo that's currently available as a free beta download. Most likely, it's garnering a bit of extra attention now that it's clear that Photos for OS X won't replace Aperture for most users.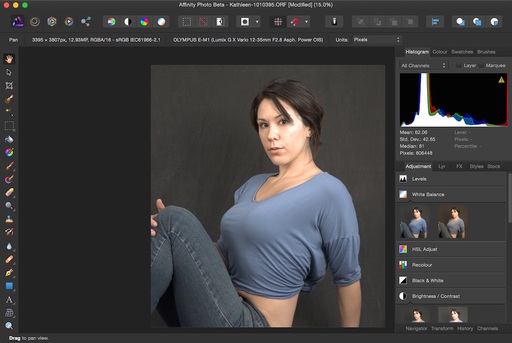 I've downloaded it myself. And after some exploration, I think this high-end image editor for the Mac has promise. But I don't believe it's the heir apparent to Aperture.
The overarching reason why is because Affinity Photo is better suited to Photoshop users than those who prefer asset managers with editing tools. My perception is that Affinity aims to bring the power of Photoshop to Mac users with a UI and approach that's more akin to Apple design than Adobe's.
The editing tools are powerful, but they make more sense if you've spent time with a complex editor such as Photoshop. A photographer raised on iPhoto who progressed to Aperture might not feel very comfortable with Affinity... at least without some work.
You may disagree. The good news is, you can see for yourself by visiting Affinity Photo.
Want to Comment on this Post?
You can share your thoughts at the TDS Facebook page, where I'll post this story for discussion.