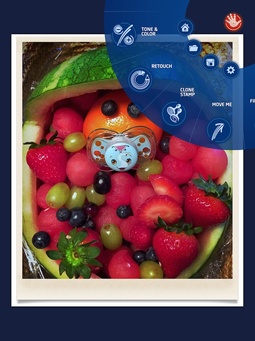 One of the apps that generated chatter at the recent Macworld/iWorld event was Handy Photo for iOS ($1.99). And for good reason. This image editor is chock-full of powerful tools, is easy to use, and sports an attractive user interface.
When you first launch the app, you're greeted with a friendly welcome screen that asks you what you want to do: take a picture or open one from your gallery. I selected a shot from my Photo Stream that I had captured this morning with the iPhone. The image appears onscreen waiting for you to tap the hand in the upper right corner to select your next action.
I typically start with cropping, so I picked the Magic Crop tool. By doing so, options for that tool are available in the lower left corner. Pick the particular action you want, and apply it with your finger tip. Image editing categories to choose from include: Tone & Color, Retouch, Clone Stamp, Move Me, Filters, Textures, Magic Crop, and Frames.
They're all relatively easy to figure out, but if you need help, return to Handy Photo Home, and tap on the Tutorials button. They've posted YouTube videos for their tools that show you how to proceed. Once you've learned a new technique, you can return to the app and apply it.
Depending on the device and the processing power that you have on it, Handy Photo has some pretty robust file handling features. For example, they list: 100% size image editing, up to 36 MP image handling, RAW format support. Here's the breakdown listed device by device:
5 MP - iPod touch 4th Generation / iPad
10 MP - iPhone 4 / iPhone 4s / iPod touch 5th Generation
15 MP - iPad 2 / iPad mini
36 MP - iPhone 5 / iPhone 5s / iPhone 5c / iPad 3 / iPad 4 / iPad Air
The images of the resolution higher than maximum allowed will be automatically resized.
The Bottom Line
Handy Photo is an excellent value for $1.99. The image editing tools are powerful, and there's quite a variety of them. The application itself is easy to use. And you can save the pictures back to your camera roll or upload them to Twitter or Facebook. All in all, I really enjoyed the app and I'm going to keep it on my iPad.
---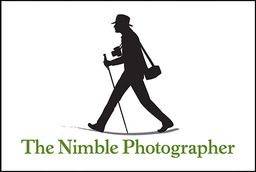 This product has a high Nimbleosity Rating. What does that mean? You can learn about Nimbleosity and more by visiting TheNimblePhotographer.com.
Want to Comment on this Post?
You can share your thoughts at the TDS Facebook page, where I'll post this story for discussion.