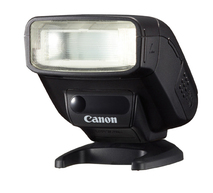 Even though the just-announced Canon T3i DSLR looks great, it was an accessory for it that got me excited. The Speedlite 270EX II for $169, which can be used as a slave flash in E-TTL wireless autoflash configurations with other E-TTL compatible EOS and PowerShot cameras. That means that this super compact unit that only requires 2 AA cells can be used as an off-camera flash with my Canon 60D DSLR because of the built-in wireless transmitter. This is also true for the 7D and new T3i.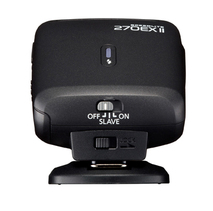 The 270EX II also includes a remote firing function enabling you to trigger the camera from the flash. And thanks to the articulated screens on the 60D and T3i, you can angle the LCD so you can review the shot even when you're not standing behind the camera.
Being able to set up off-camera flash with just my DSLR and a compact unit means that I will use this wonderful technique more often. The 270EX II will add very little weight to my everyday backpack. Once the flash begins shipping in March, I'll post a full review.
Learn Off Camera Flash Technique (Easily!)
If you want to learn how to use this great lighting technique for your portraits, check out Photo Assignment: Off-Camera Flash. There are 15 instructional movies, three of which are absolutely free, including the free tutorial, "Using One Flash on One Light Stand for a Simple Portrait." Perfect, wouldn't you say, for the Speedlite 270EX II?
---