I'm on the road again, this time to Southern California.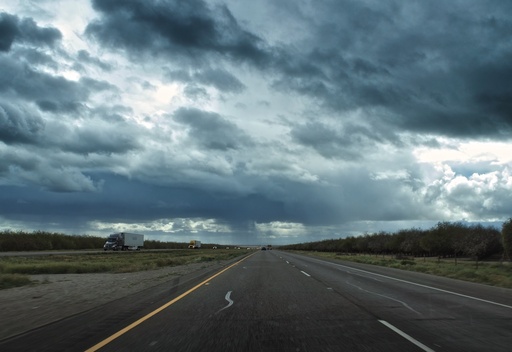 The drive south on I-5 was exciting on Saturday, with a series of rainstorms to entertain me.
I begin the week in Santa Barbara by meeting with the c't Digital Photography editorial team from Germany. I'm hoping to record a segment for Tuesday's podcast as we sit around the work table. I think you'll enjoy hearing how they run their operation in Europe, and why I'm such a strong supporter of c't Digital Photography Magazine.
After that, I'll drive down to Carpinteria and work with the lynda.com film crew to record the studio sessions for my movie about Cuba. They already have the content I recorded from the trip, and now I'll telling my stories on a set we've designed, complete with Cuban artwork that I've brought back.
I'm hoping to record a worktable chat with the film crew while I'm there. I'm thinking that will be a fun segment for next week's podcast.
I'll then head back to Northern California near the end of the week. The Golden State Warriors will be back in town from their road trip, so I'm going to watch the Splash Brothers take on the Mavericks Friday night at Oracle Arena.
I'll be sharing some "behind the scenes" here, so stay tuned.
Want to Comment on this Post?
You can share your thoughts at the TDS Facebook page, where I'll post this story for discussion.