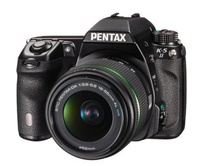 Dollar for dollar, the Pentax K-5 II with kit zoom is a great value at $1,350. (I have a Pentax K-5 and love it.) Over at Photography Blog, they've posted a full review of the Pentax K-5 II that lets you explore all of its weather-sealed nooks and crannies.
If you're in the market for a high quality, all weather DSLR with lenses that won't break the bank, take a look. It's a gem of a camera.
---
The Gift Guide for Photographers features 12 tempting goodies for the photographer in your life. Each item includes a background article about it and a direct link for the best price.