The checklist of things that I want to accomplish on the road over the next two weeks is substantial. Overall, I'm looking to create new content, both visually and with words. Plus there are certain day-to-day operations that I need to maintain. After all, I am a one-man shop.
But I refuse to schlep around a trunk full of gear. So I've been testing my current travel setup over the last week, and I've finally settled on a packing list. I thought you might want a peek inside the bag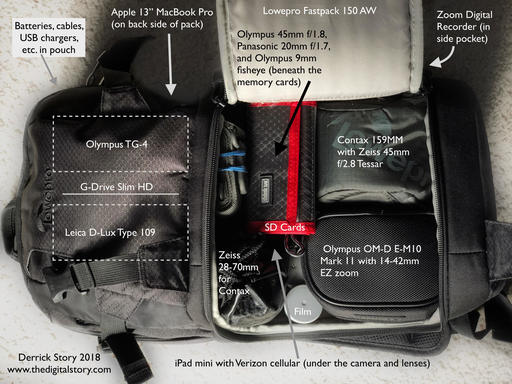 Here's the packing list:
Contax 159mm 35mm SLR with Zeiss 45mm f/2.8 Tessar lens
Zeiss 28-70mm Vario-Sonnar f/3.5-4.5 zoom lens (for the Contax 159mm)
Kodak Gold 200 35mm negative film (3 rolls)
iPhone X with AT&T LTE - also serves as my Internet connection when hotel connectivity fails me.
Apple iPad mini - With Verizon 4G LTE to give me access to a different cellular network than my iPhone.
The typical accessories such as batteries, memory cards, backup flash drives, etc.
Final weight after this week's adjustments is a bit over 13 pounds. This bag will fit under the seat in front of me on an airplane, in an overhead bin on a bus, and on the floor between my feet in a restaurant. I can have it with me where ever I go.
Now, for the content creation itself. I'll let you know when I land.
You can share your thoughts at the TDS Facebook page, where I'll post this story for discussion.