Artists aren't always the easiest people to shop for. It's not like you can get them a beret and call it a day. And photographers can be even tougher.
Fortunately I have a curated gift guide that's sure to have at least one item that will deliver a smile that will last the entire year. Take a peek and see what you think.
The OWC USB-C Travel Dock $49 is a handy accessory for laptop-toting creatives and well-suited for desktop use as well.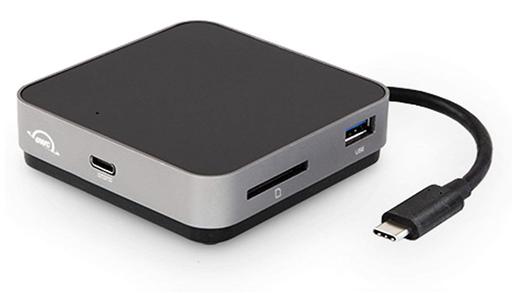 With its tuck-away USB-C cable, it adds two USB 3.1 Gen 1 (Standard-A) ports, USB-C auxiliary power port (up to 100W), SD card reader (UHS-II), HDMI 2.0 port - all in a brick-sized form factor that's about the size of of a MacBook power adapter. It also includes a nifty piece of software (downloadable) called the Dock Ejector (Mac/Windows) that enables you to eject all connected drives at once.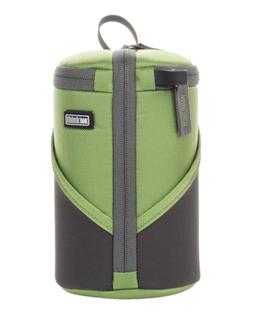 Think Tank Photo Lens Case Duo 15 (Green) $19 ($8 savings) And the Think Tank Photo Lens Case Duo 30 (Green) $20 ($8 savings)- Keep your lens protected while maintaining access with the green Lens Case Duo 15 or 30 from Think Tank. With multiple carrying options like a grab handle and belt loop, this case adapts to your carrying equipment. Its water-resistant nylon exterior keeps moisture away from your sensitive lens. Two zippered openings allow for quick access to your equipment. Additionally, stretchy front pockets can hold a variety of accessories like lens caps and memory cards. 6.7" Interior height.

Kingston DataTraveler Duo ($9.99) - I can't be the only guy who has a USB-C laptop and a USB-A desktop. The world of technology is always in transition, and the different USB connectors are one of the more aggravating side effects. Fortunately, Kingston is helping out with their Kingston DataTraveler Duo ($9.99), and I couldn't be happier. One flash drive that works with all of my computers.

PL-190R Photography LED Light 5000mah on-Camera Video Light, 2500K-8500K RGB Full Color Fill Light $59 - PL-190R Photography LED Light 5000mah on-Camera Video Light, 2500K-8500K RGB Full color Fill Light Features: 5000mAh, Extra-large capacity battery gorgeous sufficient charge. Small and exquisite, easy to carry. 12 ounces. 6"x4".

Lowepro Photo Hatchback Series BP 250 AW II Backpack (Midnight Blue/Gray) $99 - Designed to hold a DSLR with attached lens, two extra lenses, related accessories, and personal gear. On the front of the pack is a zippered storage area for personal items, accessory pockets, key fob, and a CradleFit pocket for your tablet. Camera equipment is stored inside the removable, padded insert, which is accessed through the back of the pack. Padded, touch-fastening dividers are helpful for organizing gear to your liking. A versatile pack, the insert seals at the top and features two carry handles for storing separately when converting the pack to general usage.

Rode VideoMicro Compact On-Camera Microphone with Rycote Lyre Shock Mount $59 - The VideoMicro is a compact microphone designed to improve the audio quality of your videos. It incorporates a high-quality cardioid condenser microphone capsule for great quality audio recordings when used with a wide range of cameras. A directional microphone, the VideoMicro reduces distracting peripheral sounds and focusses on the audio in front of the camera. Its pickup is more forgiving than RØDE's other on-camera microphones providing a more natural sound when recording indoors. Perfect for capturing incredible audio to accompany inspiring vision. The microphone body is made from aluminum, giving it a high level of RF rejection, and is finished in RØDE's high-grade ceramic anti-glare black coating. Included with the VideoMicro is a camera shoe mount featuring a Rycote Lyre shock mount. No Battery Required. 3.5mm mini-jack.

Ruggard Electronic Dry Cabinet (30L) $149 - The cabinet's fast-acting TE Cooling Wafer regulates the interior's relative humidity from 60 to 35% to help prevent fungus and corrosion that can damage your gear. Humidity adjustments take place over a 1- to 3-hour period.
The cabinet features a keyed door with a plastic front handle built into the gasket-sealed glass door. A large, dimmable LCD displays ambient temperature (in Fahrenheit or Celsius), relative humidity, and other settings. Interior LED lights make viewing and finding gear easier. Both the base and the adjustable plastic shelf are padded to help guard against scratches, and the shelf's padding is contoured to accommodate lenses.

Panasonic LUMIX G 14mm f/2.5 ASPH II Lens $197 ($100 savings) - Assuming a truly thin profile of just 0.8"-thick, the Panasonic LUMIX G 14mm f/2.5 ASPH II Lens is a sleek wide-angle prime designed for Micro Four Thirds system cameras. Offering a 28mm-equivalent focal length, this lens takes on a wider-than-normal perspective to benefit its use in a broad variety of shooting situations. A stepping motor provides quick, quiet autofocus performance that is beneficial to both movie and still recording and an inner focusing system maintains the overall lens length during operation for greater responsiveness. This compact and versatile lens is an ideal option for everyday use.

Rokinon 12mm f/2.0 NCS CS Lens for Micro Four Thirds $249 ($150 savings) - Providing a 24mm effective focal length and a broad 83° angle of view, this lens is perfect to working in low-light conditions.
Three extra-low dispersion elements and two aspherical elements have been incorporated into the optical design to minimize chromatic aberrations and distortion in order to produce sharper images. Additionally, a Nano Coating System (NCS) has been applied to the lens elements in order to reduce surface reflections and prevent lens flare and ghosting for improved light transmission and more contrast-rich imagery

Olympus Tough TG-6 Waterproof $349 ($100 savings) - You live for the outdoors. Hiking steep mountain trails. Backpacking through a desert Canyon. Skiing in the wilderness. The tough tg-6 is ready for adventure. It's built to endure all the extreme environments you love exploring. You can drop it. Step on it. Go deep underwater or out into a freezing blizzard. It just keeps on shooting awesome stills and video. Packed with pro features, you'll nail difficult shots -- even in low light. Shoot intricately detailed macro photos and unique shots underwater with vivid color. The lightweight, compact tough tg-6. Engineered to survive the world's toughest places.
The Film Camera Shop features 35mm film cameras, lenses, accessories, and even an eBook on getting started with analog photography. Free shipping on items over $35 via USPS Priority Mail. All items refurbished and tested by Derrick Story.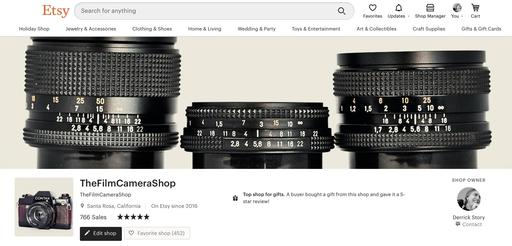 Stay safe, be creative, and have a thankful holiday season.
Product Links and Comments
There are product links in this article that contain affiliate tags. In some cases, depending on the product, The Digital Story may receive compensation if you purchase a product via one of those links. There is no additional cost to you.
You can share your thoughts at the TDS Facebook page, where I'll post this story for discussion.