I was among the many pleased photographers who exclaimed, "Finally!" when Phase One announced their improved Fujifilm RAW support with version 11.3.
"Last of the Garden Tomatoes" - Photographed with a Fujifilm XF10 with the RAW file processed in Capture One Pro 11.3. Photo by Derrick Story.
This highlight, of course, is bringing the Fujifilm GFX 50S into the mix. But a dozen Fujifilm cameras and another half dozen lenses were included as well. Among them was my humble, but loved, Fujifilm XF10 compact with APS-C sensor. I was dying to seeing how its RAW files were decoded with Capture One Pro. I was not disappointed. (Take a look at the Garden Tomatoes shot above.)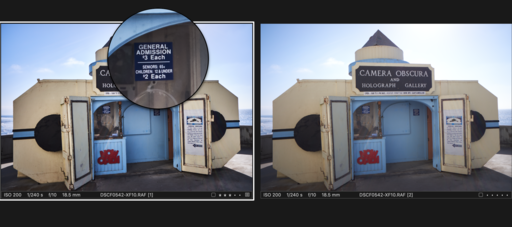 The combination of the Fujifilm camera and Capture One Pro retains all that beautiful detail. Processed RAW file on the left, original RAW on the right.
The XF10 Jpegs are beautiful. And I shoot in that mode most of the time. But I've programmed the back Function button to switch to RAW+Jpeg when I want to extract as much image information as possible. And now, thanks to Capture One Pro 11.3, I can do so with confidence.
Edit Like a Pro with Capture One
Improve your skills with my new course titled, Capture One Pro 11 Essential Training on LinkedIn Learning. You can also tune in on lynda.com if you prefer your training there. Either way, I have four hours of entertaining education that will help you master this excellent photo management and editing application.
You can share your thoughts at the TDS Facebook page, where I'll post this story for discussion.