Apple RAW Update 6.20 adds compatibility for 9 new cameras for its Photos app and system wide on Mac OS X. The new cameras are (including the PEN-F):
Canon EOS-1D X Mark II
Canon EOS 80D
Canon EOS Rebel T6 / 1300D / Kiss X80
Canon PowerShot G7 X Mark II
Panasonic LUMIX DMC-GF8
Panasonic LUMIX DMC-GX7 Mark II / GX80 / GX85
Panasonic LUMIX DMC-ZS100 / TZ100 / TX1
Sony Cyber-shot DSC-RX10 III
Olympus PEN-F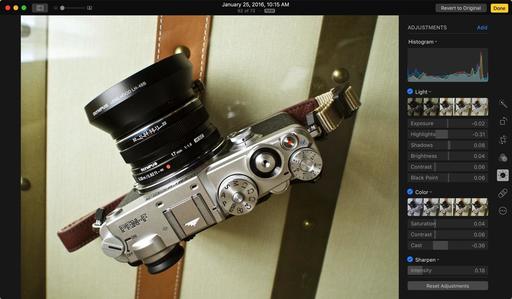 RAW files from these cameras can be processed natively on Mac OS X. For a complete list on cameras supported, see Apple Support Document
The Apple Photos Book for Photographers
For photographers who are more than just casual snapshooters, or who are making the transition from Aperture or iPhoto, The Apple Photos Book for Photographers shines a light on the sophistication of this app and the ecosystem it taps into. Available as an eBook now, and coming to print later this year.
Get it for $15 using checkout code APPLE15!
For hands-on tutorials, be sure to take a look at Photos for OS X Essential Training on lynda.com. I cover everything you need to know to get the most from this surprisingly powerful image management application.
Want to Comment on this Post?
You can share your thoughts at the TDS Facebook page, where I'll post this story for discussion.