Aperture users who have aging libraries from the past don't need to keep nursing their geriatric host application to view, edit, and share those images. Photos for macOS can handle that job just fine.
When I bought a new iMac for my studio computer, I opted not to load Aperture on it. Instead, I have Photos for macOS, Lightroom, Capture One Pro, and Luminar. That computer is connected to two Drobos that house my images from the last 15 years. Many of those shots are inside Aperture "managed" libraries.
When I need to access content from one of those libraries, I simply double-click on the file container in the Finder. It will have the extension: aplibrary.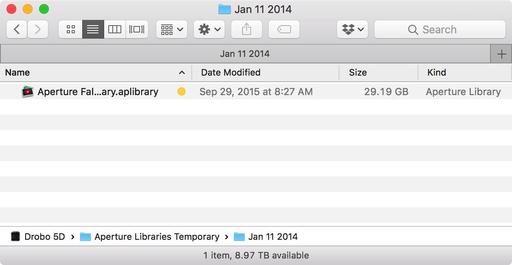 Original Aperture library.
The Mac launches Photos, and displays a Preparing Library... screen. The conversion goes at a good rate, ranging from just a few minutes to longer depending on the size of the library. Once Photos is ready with the content, it will display all of your previous Aperture images in its new interface.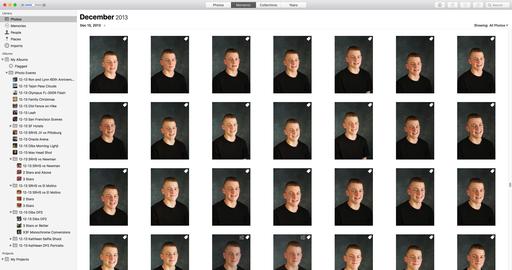 Migrated Aperture library displayed in Photos for macOS. Notice how the original albums are displayed in the sidebar.
Your Aperture albums are retained and stored in a folder named: "iPhoto Events". From this point, you can use Photos editing tools, extensions, and all of the other goodies to manage your shots. Keep in mind that this converted library is not the System Library, rather a separate library. You can switch back and forth by quitting Photos, then holding down the Option key when relaunching the app.
Back at the Finder level, two things have happened. First, the file extension for the original Aperture library was changed to: migratedaplibrary. Then a second Photos library appears with the extension: photoslibrary. My recommendation is to archive the original library and use the new one for your current work.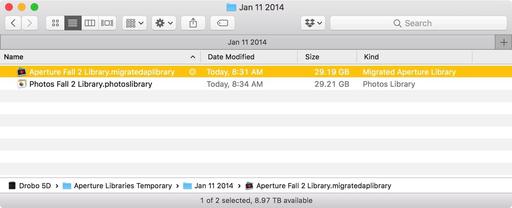 Back at the Finder level, you now have two versions of the original Aperture library.
This process is really easy, and you can move forward with your images using all of the Photos tools that I outline in my book, The Apple Photos Book for Photographers. Give it a try!
The Apple Photos Book for Photographers, 2nd Edition
Updated for macOS High Sierra, the The Apple Photos Book for Photographers, 2nd Ed.
provides you with the latest tips, techniques, and workflows for Apple's photo management and editing application. Get your copy today!
You can share your thoughts at the TDS Facebook page, where I'll post this story for discussion.