Note: Now that Black Friday is over, so is the special price for this kit. It does, however, remain in the store at $34.95.
A great deal in the Nimble Photographer Store for 24 hours only - the Walking Man Shoulder Bag + Dual-Function Stylus Pen + microfiber cloth - entire kit for $19.95 (regular $34.95). Here's more about it.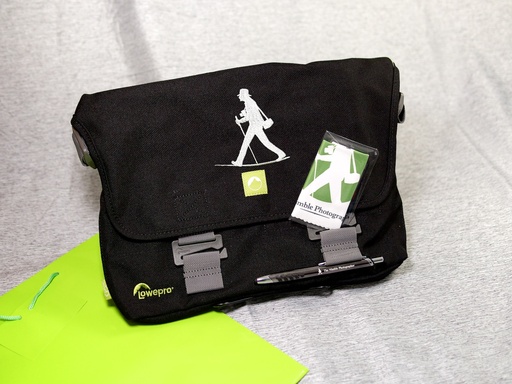 Take the stairs instead of the elevator - You're light on your feet with the Walking Man Shoulder Bag slung across your back.
The Urban Explorer Kit includes our classic Shoulder Bag designed by Lowepro and made of recycled material (it's planet friendly!), the Dual-Function Nimble Stylus Pen (perfect for iPad browsing in a restaurant or coffee shop), and the "I have a high nimbleosity rating" Microfiber cloth (for keeping your electronics and optics nice and shiny).
The kit comes packed with the Stylus Pen and Microfiber Cloth nestled in their dedicated pockets inside the Shoulder Bag. Plus, we include a holiday gift bag. So all you have to do is sign the card and present the gift.
The Black Friday Sale Price is effective until 11:59 PM on Friday Nov. 28th. Offer good while supplies last.