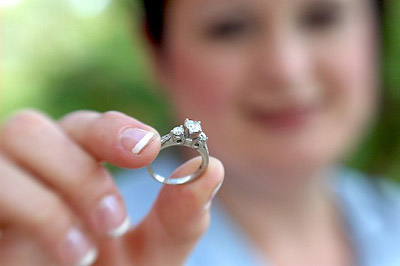 "I've been following and enjoying your podcasts, and you are usually right on the money with your advice and observations," said David Shough.
"But I have to disagree with you regarding the Lensbaby lenses. It's an awesome tool... I use it nearly every shoot (studio, product, and weddings). The reason a lockable Lensbaby is so appealing is that is lets you shoot with long exposures, as well as giving you a way to get repeatable studio shots. At less than $300, it's a steal. I'll be getting one soon."
Well, David, I'd say you rose to the Lensbaby challenge admirably. This shot of a bride's ring is quite powerful. And now I can say that I've seen a great shot made with a Lensbaby. Well done!
Technorati Tags: The Digital Story