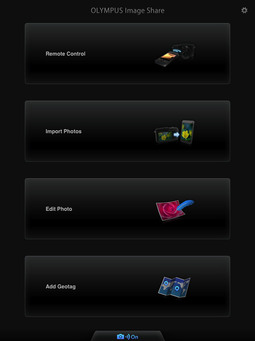 Fans of the Toshiba FlashAir wireless SD card will be happy to see the Olympus Image Share app back in iTunes for iPhone and iPad.
In my latest book, iPad for Digital Photographers, I recommend Image Share as the easiest way to filter Jpegs from Raws and only upload the Jpegs to your iPad. The app left iTunes for a couple weeks, presumedly while it was being retooled, but now has returned with new features. And most importantly, the old features still work.
If you have an Olympus E-P5, you can now tap the new remote control and geotagging features in the Image Share app. Very nice. Those of us using the FlashAir card don't have access to those features. But we can still wirelessly transfer our photos from the camera to the iOS device.
ShutterSnitch Adds Eye-Fi mobi Support
In related news, the venerable ShutterSnitch app has added support for the Eye-Fi mobi wireless SD card. On first test, I could not get the two talking to each other, even after quitting the Eye-Fi app as instructed by ShutterSnitch. I'll keep testing. Once I get things working, I'll report my findings.
---
iPad for Digital Photographers
This is the kind of stuff I write about in iPad for Digital Photographers
-- now available in print, Kindle, and iBooks format.
Want to Comment on this Post?
You can share your thoughts at the TDS Facebook page, where I'll post this story for discussion.