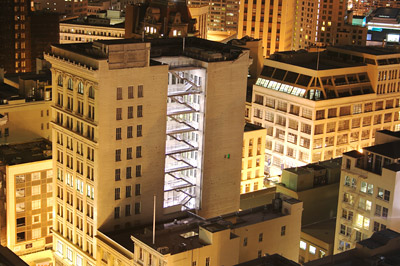 Cityscapes at night are one of my favorite subjects. It's difficult, however, to get a good angle without having to shoot through glass. Most hotels in San Francisco only let you open your window or sliding glass door part way for ventilation. On my last trip, however, I had a sliding glass door on the 22nd floor that opened all the way. A venerable night-shooting pot of gold.
I pulled my UltraPod II out of my backpack and strapped it to the floor lamp that I had positioned in front of the open sliding glass door. I set my Canon Rebel XT to ISO 200, turned on the self-timer, put the Exposure Compensation to +1, composed, and pressed the shutter. I captured quite a few compelling nightscapes in that session.
If you enjoy night shooting too, always pack your portable tripod and test the windows in your hotel room. Use great caution to ensure that your shirt pocket is empty so you don't accidently drop anything to the ground below. Work quickly and safely, and you can get some great shots.
Technorati Tags: digital photography, technique, tips