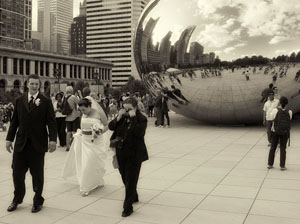 "I was walking through Chicago's Millennium Park during the early evening," wrote Rick Brandt, "and noticed that just about everyone had a camera (or camera phone) taking photos at the Cloud Gate -- a 110-ton elliptical sculpture that reflects the Chicago skyline and clouds above.
"One photographer in particular caught my eye since her subject was a bride and groom. As the trio wrapped their photo session and headed away from the sculpture, I thought there was an interesting photo in the making -- I just had to get to the spot where I could frame up the subjects with the Cloud Gate behind them. So I took off on my 20-yard dash. With their emotions getting the best of them, the photographer and bride didn't take much notice of me. However, the groom seems to be wondering -- 'Who is this guy running at us?' -- just as I slammed on the brakes and made the exposure. Post-processing done in Aperture with the help of Silver Efex Pro from Nik Software."
Rick captured the image with his Canon G9 set to ISO 80 and f/2.8.
Photo by Rick Brandt. Click on image to zoom to larger size.
If you have a candid you'd like to share, take a look at our Submissions page, then send us your Grab Shot. We'll try to get it published for you on The Digital Story.
And you can view more images from our virtual camera club in the Member Photo Gallery.
---
-
---
Technorati Tags: candid, digital photography, grab shot, The Digital Story