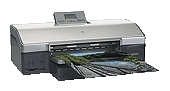 I've been looking closely at two professional printers for my studio: the HP Photosmart 8750 Professional Photo Printer ($499) and the Epson Stylus R2400 Photo Printer ($849). I had a chance to compare these excellent models at the recent Macworld SF Expo.
I was particularly interested in the B&W output. Why? Because I'm far enough along in my digital photography where I'm starting to miss having a chemical darkroom. I'm not missing it enough to set one up, but I would love to have a good B&W printer so I can begin making enlargements again.
The HP 8750 has nine print cartridges: cyan, magenta, yellow, light cyan, light magenta, blue, light gray, dark gray, black. The two gray and one black cartridges enable you to do B&W printing right out of the box without having to buy any special kits. It can print up to 13" x 19" enlargements, and there were some good paper choices available from HP. Connectivity includes USB 2.0 and Ethernet. It also has memory card slots so you can print directly from your media, although that isn't as big a concern for me with this type of fine art printer.
The Epson R2400 has eight individual cartridges: cyan, light cyan, magenta, light magenta, yellow, photo black or matte black, light black, and light-light black. Paper size can be as wide as 13" in either single sheet or roll. As with the HP 8750, making 11" x 14" enlargements with the R2400 are a snap, and Epson has some truly wonderful photo paper stocks to choose from. Connectivity includes both USB 2.0 and FireWire. One of the things that impressed me about the Epson is that I could download custom ICC printer profiles for the printer free of charge. Very nice. There are no media card slots however on this model.
So how did the prints look from these two units? Both did a great job with color output. Both provide archival quality. One thing I like at trade shows is you get to see the best prints possible in each respective booth. The B&W was also impressive with both printers. But I would give the nod to the Epson for B&W output. It was a close decision, however. One thing to note about the Epson is that you do have to swap out an ink cartridge for optimum B&W output.
There's a substantial price difference between the printers -- $350. So my bottom line is, if you have the budget for the Epson R2400, it would be my first choice because of the excellent B&W output and the ICC profiles. But the HP 8750 is a very tempting printer for $499. You can make big beautiful enlargements with it that rival the quality of the Epson's output. In this case, deciding between the two printers really comes down to how much money you have to spend.
Technorati Tags: digital photography, equipment, product review