This week on The Digital Story Photography Podcast: Off the Grid Photography (the Green Photographer), SizzlPix Award Winners, EISA Awards: the Best of the Best from Europe - All of this and more on today's show with Derrick Story.
Story #1 - The Weekly Update: Sony a5100 First Impressions Review - "Based on my initial experiences with the a5100, it seems like a very compelling midrange ILC. For $699 with the 16-50mm power zoom lens, you're essentially getting an a6000 without an EVF and a few dials. If you don't mind losing that feature, you're getting what seems to be a lot of camera for $699 (with a 16-50mm lens)." (Source: DP Review.
In other news, The European Imaging and Sound Association Awards 2013-14 include the Olympus OM-D E-M10 (Best Consumer Compact System Camera), FujiFilm X-T1 (Best Advanced Compact System Camera), and the Sony RX100 III (Best Compact Camera). You can see all of the winners at the EISA site.
And finally, onOne Software is giving away Perfect Effects 8 ($79 value) in exchange for your email address and a free subscription to their Fotocommunity newsletter. You can take advantage of this offer at the onOne web site.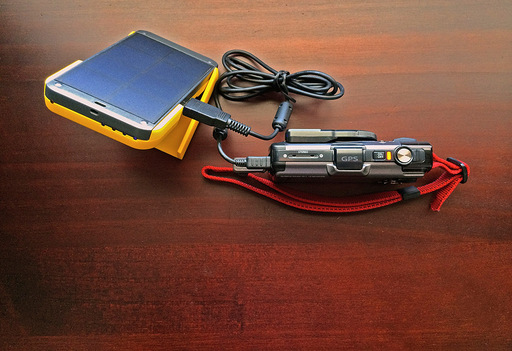 Olympus camera being charged via USB by a WakaWaka solar charger.
Story #2 - Off the Grid Photography (The Green Photographer) - Our digital tools have made us dependent on Internet connectivity and power outlets. But if you wanted to get off the grid for a week or two, could you? Yes, and fairly easily. Because technology is advancing in renewable energy too. Here are a few of the items that I discuss in today's Green Photographer segment.
Story #3 - From the Screening Room - GarageBand Essential Training with Garrick Chow. Garrick is one of the most season lynda trainers, and he specializes in Mac software titles. If you've wanted to learn GarageBand, but just found it a bit overwhelming, Garrick will break it down for you in digestible parts.
You can watch Garrick in action by visiting the TDS Screening Room at lynda.com/thedigitalstory. While you're there, you can start your 7 day free trial to watch other design, photography, and computing titles, plus every other topic in the library.
Story #4 - SizzlPix Winners! Here are the latest class of winning photographers for the SizzlPix Pick of the Month:
Michael Hoffman -"HDR" - March 2014 Photo Assignment
John Dillworth - "Flower Power" - April 2014 Photo Assignment
Victor Hermand - "Around the House" - May 2014 Photo Assignment
Richard Messenger - "Any Kind of Light but Natural" - June 2014 Photo Assignment
Congratulations on your excellent work!
Virtual Camera Club News
The SizzlPix Challenge is Back! (for one month only). Each week the first 10 TheDigitalStory listeners/readers to order SizzlPix from their own favorite images will receive a mini-sample of each SizzlPix prior to production by return mail absolutely free! Just put the words "free sample first" and your mailing address in the comment space of SizzlPix's new simplified order form.
Visit the Red River Paper Card Shop. You can peruse top selling cards, order the card sample kit, and read tutorials on card printing. Save on Ground Shipping for Red River Paper. Use coupon code ground50c to receive a 50 percent discount on UPS ground shipping for Red River Paper. No minimum purchase required.
Photo Assignment for August 2014 is "My Favorite Close-up".
If you haven't done so already, please post a review for The Digital Story Podcast in iTunes.
BTW: If you're ordering through B&H or Amazon, please click on the respective ad tile under the Products header in the box half way down the 2nd column on thedigitalstory.com. That helps support the site.
Download the Show
In addition to subscribing in iTunes, you can also download the podcast file here (31 minutes). You can support this podcast by purchasing the TDS iPhone App for only $2.99 from the Apple App Store.
More Ways to Participate
Want to share photos and talk with other members in our virtual camera club? Check out our Flickr Public Group. And from those images, I choose the TDS Member Photo of the Day.
Podcast Sponsors
lynda.com - Learn lighting, portraiture, Photoshop skills, and more from expert-taught videos at lynda.com/thedigitalstory.
Red River Paper -- Keep up with the world of inkjet printing, and win free paper, by liking Red River Paper on Facebook.
SizzlPix! - High resolution output for your photography. You've never seen your imagery look so good. SizzlPix.com. SizzlPix! now is qualified for PayPal "Bill Me Later," No payments, No interest for up to 6 months, which means, have your SizzlPix! now, and pay nothing until January!
Want to Comment on this Post?
You can share your thoughts at the TDS Facebook page, where I'll post this story for discussion.