For the August 2012 Photo Assignment, TDS shooters hit the streets. See for yourself in our gallery, Street Scene. And which one will be the SizzlPix Pick of the Month?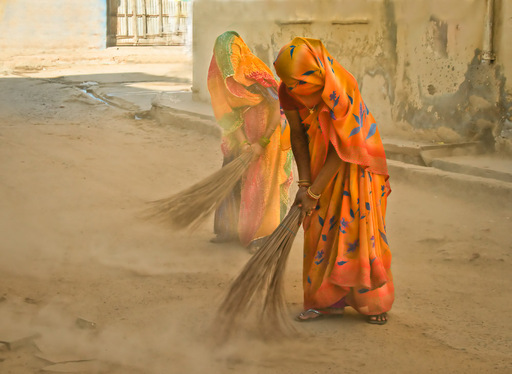 Untouchable women sweeping the streets of Mandawa, Rajasthan. "It was early in the morning and I was walking the streets of Mandawa, in the Indian state of Rajasthan," writes Sergio Burani. In a cloud of dust, these two untouchable women appeared from nowhere, sweeping with a short-handled broom. The bright colors of their costumes provided a sharp contrast with the misery of their task." See all of the great images from this month's assignment by visiting the Street Scene gallery page.
---
Participate in This Month's Assignment
The October 2012 assignment is "Panorama." Details can be found on the Member Participation page. Deadline is Oct. 31, 2012.
Please follow the instructions carefully for labeling the subject line of the email for your submission. It's easy to lose these in the pile of mail if not labeled correctly. For example, the subject line for this month's assignment should be: "Photo Assignment: Oct 2012." Also, if you can, please don't strip out the metadata. And feel free to add any IPTC data you wish (These fields in particular: Caption, Credit, Copyright, Byline), I use that for the caption info.
Good luck with your Oct. assignment, and congratulations to all of the fine contributors for August.
---
-
---
Now Available! The Digital Photography Companion. The official guide for The Digital Story Virtual Camera Club.
25 handy and informative tables for quick reference.
Metadata listings for every photo in the book
Dedicated chapter on making printing easy.
Photo management software guide.
Many, many inside tips gleaned from years of experience.
Comprehensive (214 pages), yet fits easily in camera bag.
---
Technorati Tags: digital photography, The Digital Story, Photo Assignment